Mon Oct 29 00:00:00 EDT 2007
This in the new completed dungeon entrance. (Ignore the flood light I have setup to improve photo quality). I think it turned out pretty good. Next year I might add a few things to it though like sconces and stuff.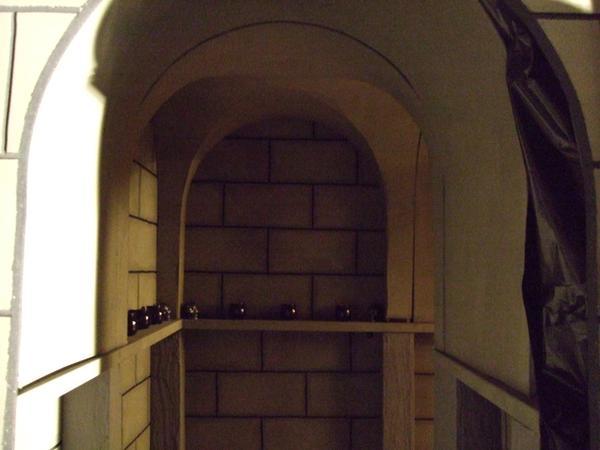 Here is a shot of the tunnel with the flash off. It gives you less detail, but a better idea how it looks in a darker setting. Its really hard to give you a good photo of the way the dungoen looks during my party. Lighting is a huge part of the experience and its hard for me to capture that with a cameraÖ. or least for someone with my photography skills.
Here is a closer shot of the tunnel with the flash on.
Here is a closer shot of the groin vaulted ceiling in place.
Here is that same shot with the flash on.
In this shot you can see where the tunnel connects to the existing dungeon from last year.
And finally here is the completed tunnel going from the dungeon to the future laboratory. I donít really have a very good entrance this year for the tunnel. The pumkin sconce you see on the right is really from the design from last year. Next year when the tunnel leads to the laboratory, instead of just the kitchen Iíll have a proper entrance. Happy Halloween!